PNTProcess
PNT plating is the compound electrolysis plating of nickel-silicon carbide improving slide performance of the aluminum alloy drastically.
Improvement of wear resistance and galling strength for aluminum alloyed steel.
Composite plating of Ni-SiC + Honing finishing
Process
PNT plating layer is composed of electro Nickel plating layer (500-600mHv) and SiC (2500mHv) dispersion particles.
The superior wear resistance and galling strength can be obtained by lubricating oil and combination of fine super hardness SiC ceramic particles and strong plating zone.
Assurance of higher accuracy of bore by PNT honing. For super extreme use, plateau shape is possible for oil pit.
On the surface of parts where being high reactive surface by etching as pretreatment and melting reaction, PNT plating layer of a good adhesion can be formed.
PNT honing is applicable to the wide range from single cylinder engine to multiple cylinder block engine.
PNT plating layer consists of electrolytic Ni plating layer (mHV500-600) and SiC dispersion particles (mHV2500) in the layer
| | |
| --- | --- |
| | PNT horning ensures high boar accuracy. The plateau horning reproduces the state just after completion of the shakedown cruise mechanically. The honing, improving the oil holding-ability in oil pit, is applied for the extreme use by the synergy with the tough film of PNT plating. |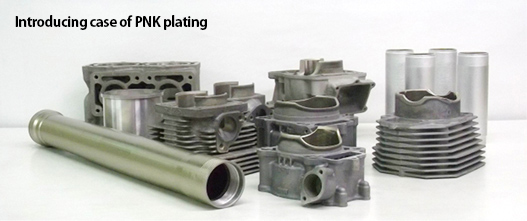 <Record applied>

General purpose engine, commercial engine

For 2 wheels off-road vehicle, ATV, water jet sky, fire extinguishing pump

Racing car engine

4 wheels vehicle: FI, WRC, Super GT, Formula Nippon
2 wheels vehicle: For on-road such as MOTOCROSS GP, etc., MOTOCROSS, Trial, etc.

<Production quantity>

| | |
| --- | --- |
| Cylinder for race and development | 52,000pcs |
| Block for race and development | 3,200pcs |
| Sleeve for race | 70,000pcs |
| Total production quantity | 2,460,000pcs |

As at the end of fiscal 2010